Full original blog post can be found at the following link:
https://theplanetd.com/toronto-events-photography-exhibitions/
Hey Toronto, looking for a something to do the weekend of April 26? We are excited to announce, Dave's first gallery showing of his photography from around the world. 
We've teamed with Level Fine Art Modern Gallery in Etobicoke to showcase a curated collection of Dave's favorite photos printed metal and acrylic in large format. 
Join us Friday, April 26 for a drop-in event from 4 – 10 pm. 
Toronto Events – 2 Photography Exhibitions with The Planet D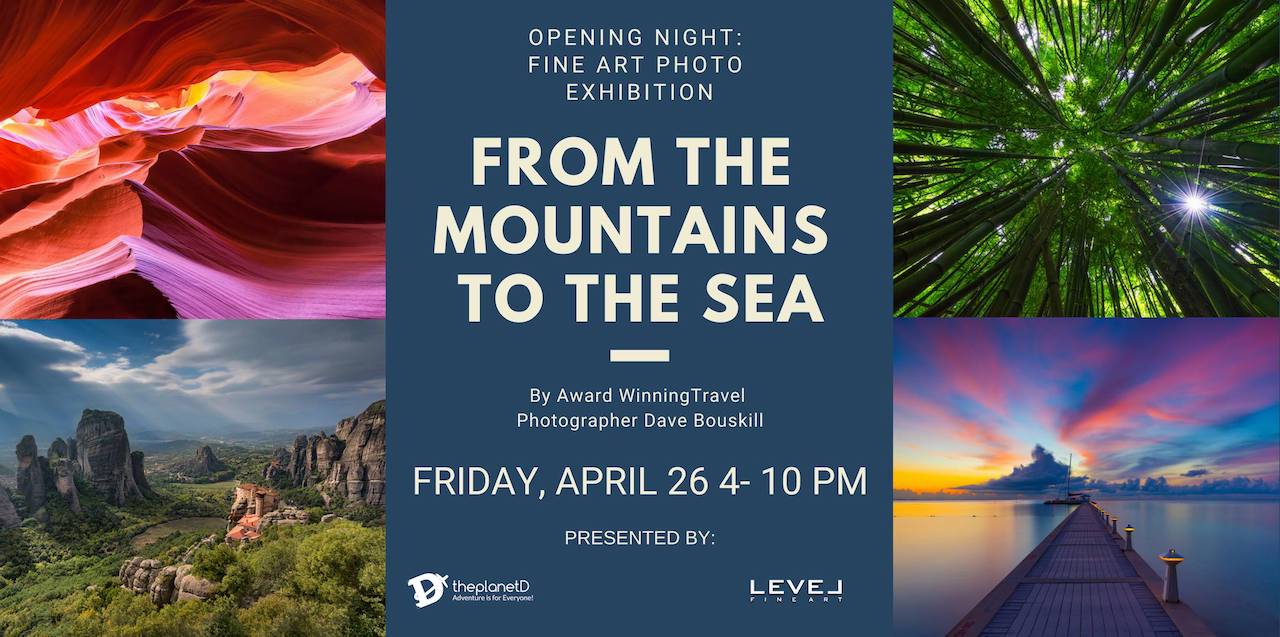 We'll be celebrating with snacks and beverages as people peruse Dave's work. 
We'll be holding a raffle to give away a metal print to one lucky winner and a photography book of Dave's best photographs.
RSVP Here – April 24

Date: April 26. 

Time: Drop in anytime from 4 – 10 pm

Address: 940 The Queensway, Toronto, ON M8Z 1P4

Google Maps: Directions
It all Started with a chance meeting
When moving back to Toronto, Dave and I desperately needed some art on our walls since we didn't own anything after traveling non-stop for eight years! 
Friends from Toronto told us about a fantastic lab that printed large prints on metal frames called Fotobox on the Queensway. 
So we had a couple of our prints enlarged at Fotobox and loved it so much; we went back again.
Lanny Chun started the company in 2008, and his son Phill honed his craft at the family business.
Last month, he opened his studio next door specializing in metal prints. 
Opening of Level Fine Art Photography
Phill asked Dave to be his first featured photographer and the idea of a gallery show was born. 
April 26 – May 26 Toronto Gallery Show
The timing couldn't have worked out better as Dave, and I decided to slow our travels down a bit in 2019 to focus on other goals. 
This is an exciting new project that we hope opens the door to new photography opportunities. 
Since getting to know the Chun family, we are thrilled to be working with them and hope to continue for many years to come! 
About Level Fine Art Modern Gallery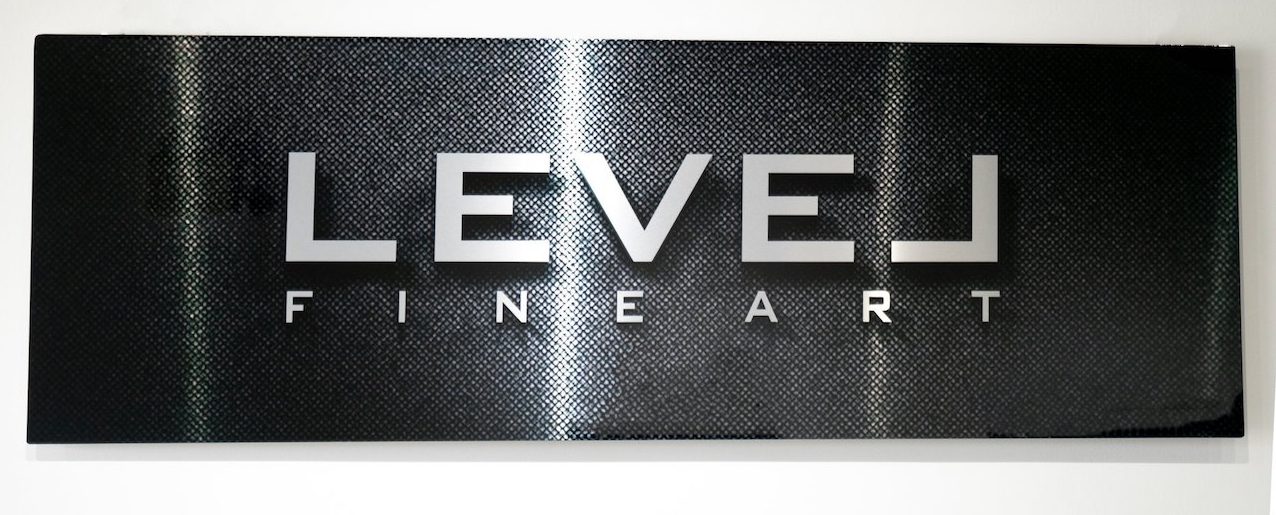 Started by Phill Chun, Level Fine Art: Modern Gallery is inspired by the likes of Peter Lik and his infamous fine art galleries across the world.
With a passion for photography and experience within the printing industry at his father's acclaimed Fotobox, Chun's prints stand heads above the average canvas framed prints of traditional photography exhibits.
This gallery showing of limited prints will run from April 26, 2019, to May 26, 2019.
A second event will be held for the closing week on May 24, so keep the date open if you can't make April.
About Dave's Photography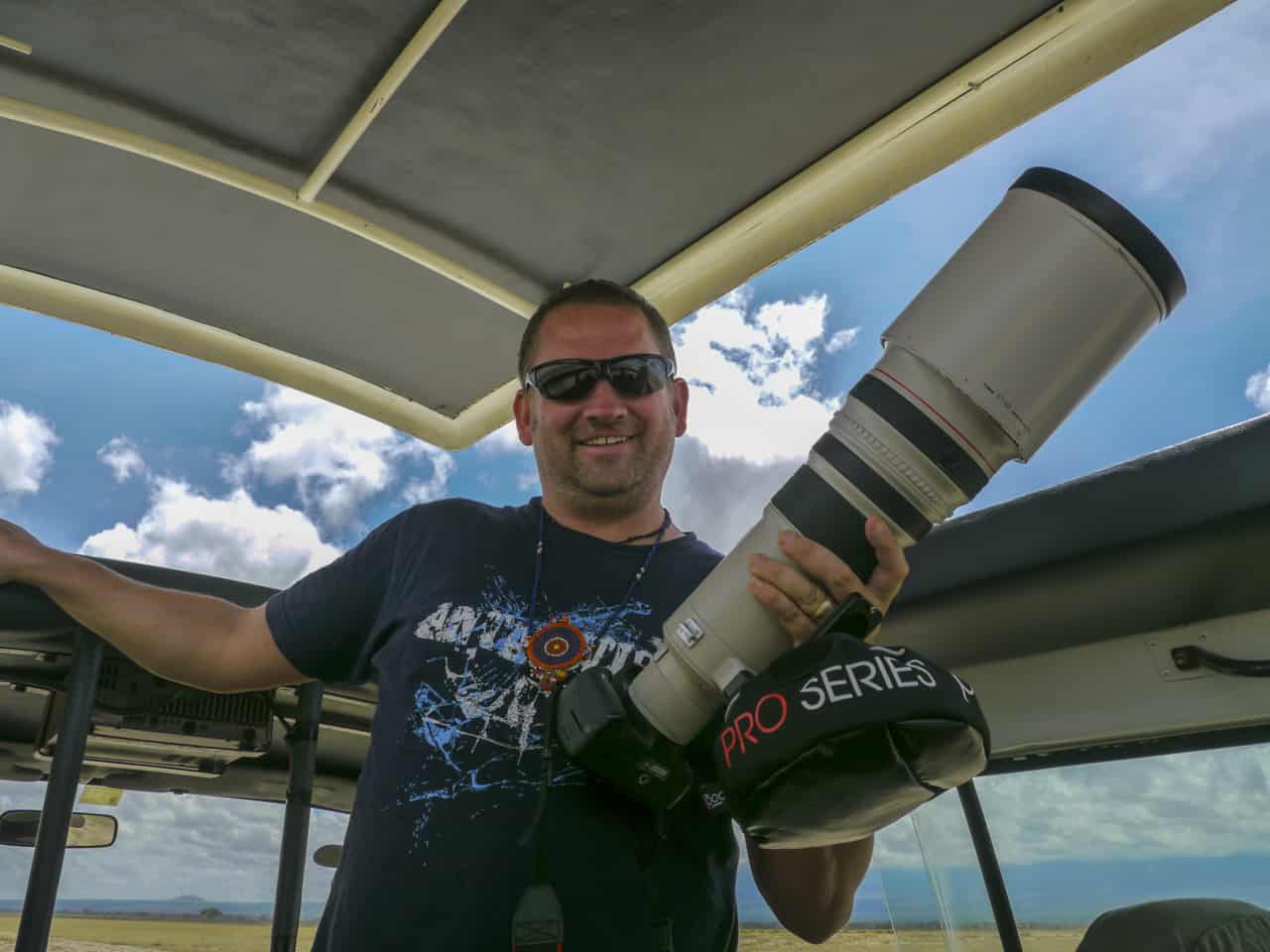 If you are a frequent visitor to The Planet D, you will know that our travel blog is focused on creating beautiful images. 
Dave's photography has won numerous awards including Best Photo Illustration of Travel, Best Wildlife Photography, and Best Cultural Photography by the SATW Lowell Thomas Awards. 
Dave has been featured in many lists as one of the top travel photographers in the business. 
The likes of Forbes, USA Today, Harper's Bazaar, Yahoo, AOL and Reader's Digest named The Planet D one of the top travel Instagrammers to follow.
Recently Dave has branched out to do more editorial work with the likes of the BBC and CAA. 
And even though this is his first official gallery showing, Dave has had his photography featured around the world. 
Photography Gallery Show
Last year he had a gallery featured in the Amsterdam Airport at The Gate in the Sheraton Amsterdam.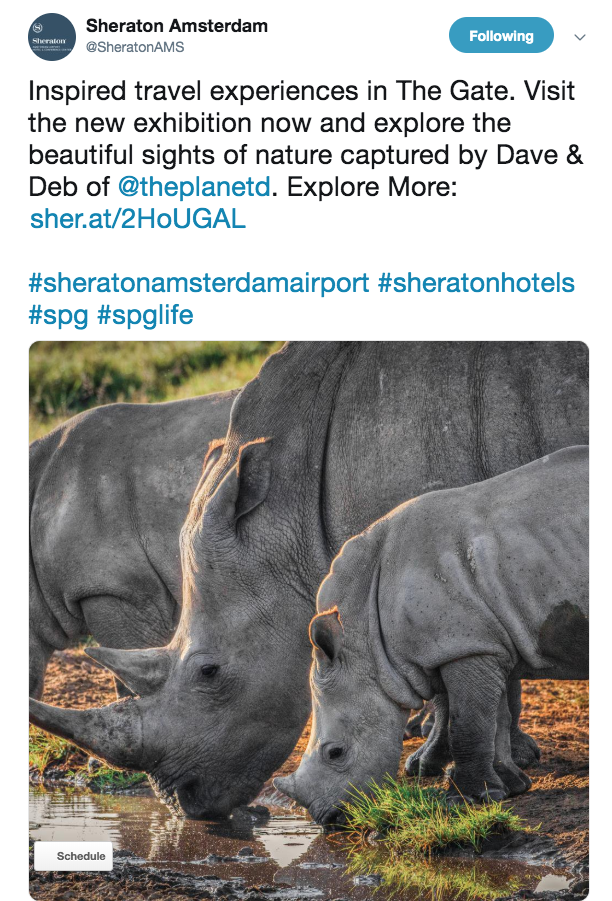 He was also featured in New York City at the Big Screen Plaza, a 10,000 sq. ft. public plaza & digital arts venue where people, media, and culture connect
We hope you can join us on April 26, but if you can't save the date in May! We'll be doing it all over again the weekend before the exhibit closes on May 24. 
You are in for a treat. It's going to be a fun and relaxed atmosphere where travel lovers can talk about travel and photography. 
Dave's photos will be on sale and you can check out and purchase the limited edition photos gallery on the Level Fine Art Photography Website soon! 
Dave has also been revamping our photo gallery here on The Planet D. Check it out and we hope to see you in person in Toronto on April 26.